On September 24, 2021, the 2021 China Preschool Education Conference and the 12th Kids' Expo China-Guangzhou was held in Guangzhou.
More than ten thousands of principals of kindergarten and teachers gathered together in Guangzhou for idea exchanging and mutual learning. As one of the public platform in preschool education field, providing academic sharing, marketing, project cooperation and service, Kid's Expo China-Guangzhou is a grand event in southern region and even in China with the largest scale, highest standard and strongest team, which is long-expected by all the participants from preschool field.
In this particular offline event, over 100 public-spirited speakers and 500 brands showed up in Guangzhou. Bringing the learning spirit and innovation power together for more than ten thousands of preschool educators from all over the country, Kid's Expo China-Guangzhou provides new orientation for preschool education development.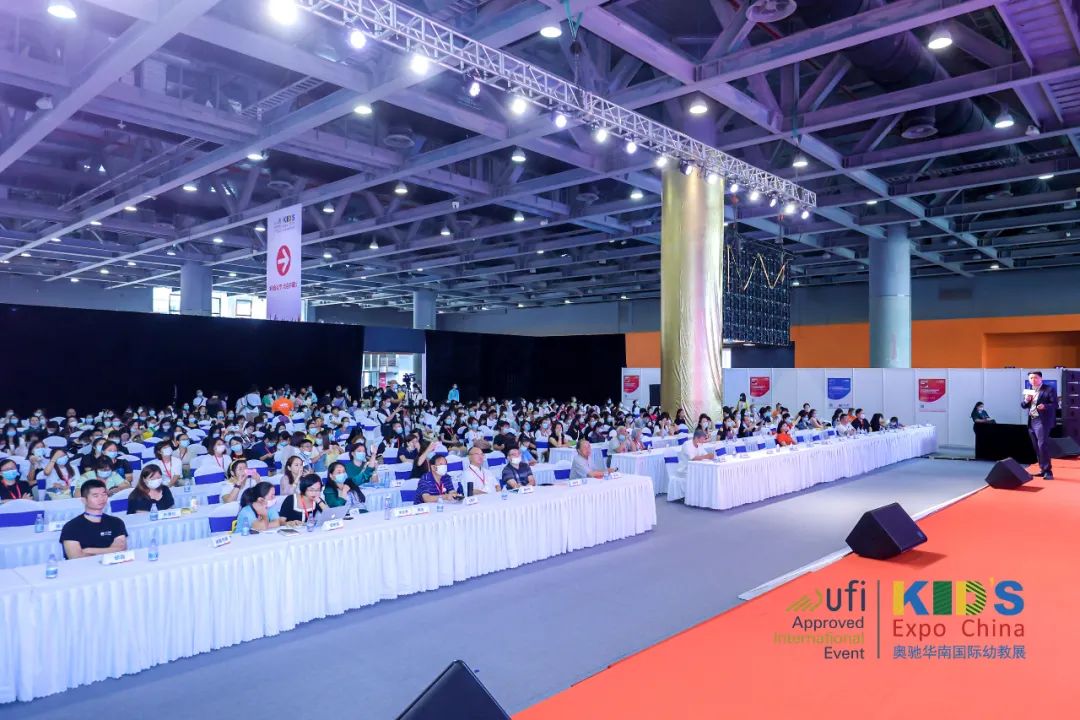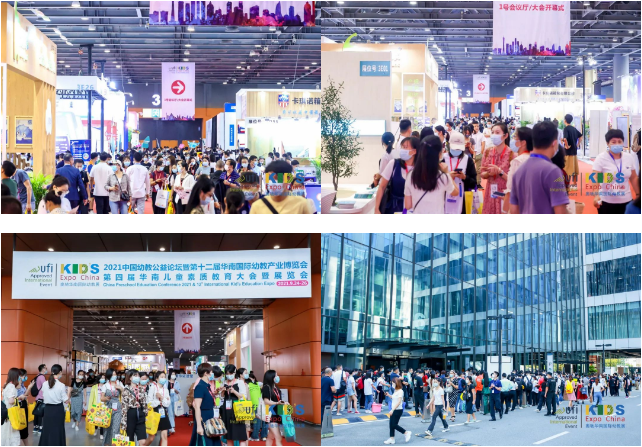 opening ceremony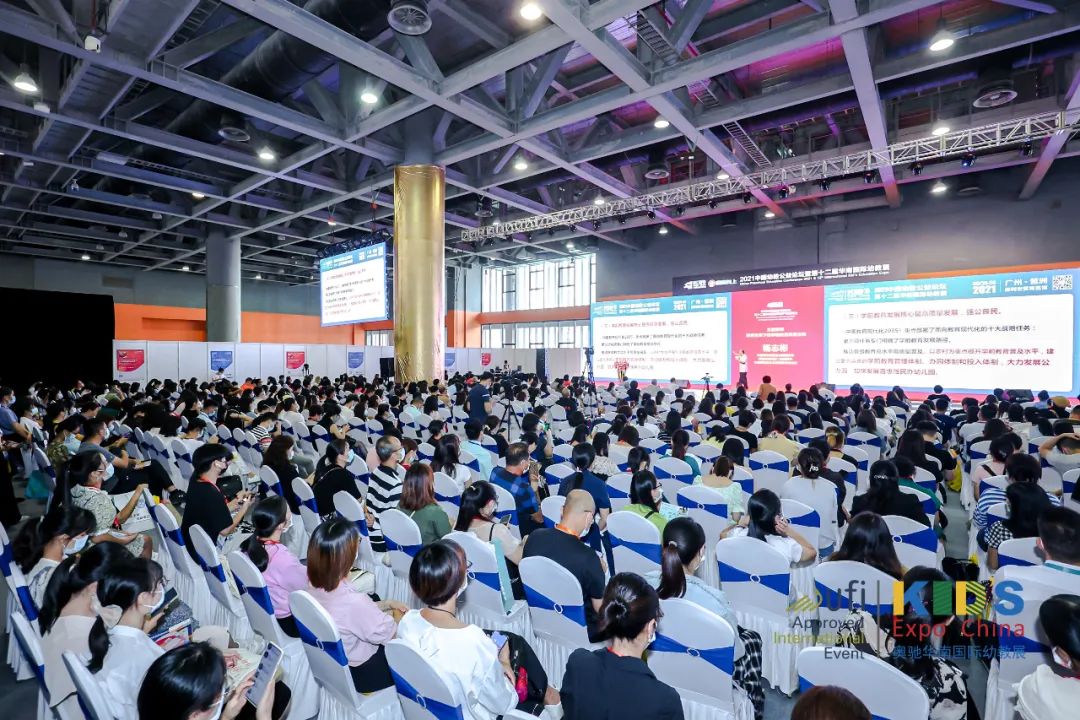 As the national first-launched and large-scale learning platform free of charge, the preschool education conference centers in the Innovation and High-quality Development of China's Preschool Education in New Era, taking the academic guidance and practice sharing as the main line. Though setting up a class system of high quality resources, actively playing the exemplary and leading role in regions so as to promote the synergetic development and deepen the cooperation among regions, Kid's Expo China helps promote the high-quality development of China's childcare and preschool education.
Today we plan for the future, and we plan for the future of preschool education. This conference will focus on new topics and concepts, including new orientation, new design, new courses, new management, new child's games, new service, new communication, etc. There are eight major sections which are exploring new orientation of preschool education, constructing new spatial layout of kindergarten, establishing new system of scientific childcare, sharing new practice of kindergarten management, innovating new management model under the background of great change, designing new games centering on child's growth, making new plan for combined education of home and kindergarten, and taking great advantage of new media in brand marketing and operation. With comprehensive and systematic learning content, it's believed that the conference will allow all the participants to think in depth and gain a lot.

With ten years' development, the annual Kid's Expo China-Guangzhou has become one of the grandest event of preschool education with the largest scale all over the world.
In order to meet the need of purchasing and adapt to the new mode of development in preschool education, the conference will attract more than 500 brands to show up, and over ten thousands of products and service covering the whole industry chain including early & preschool education, childcare, environmental design of kindergarten, courses in five major domains, equipment and supplies, etc. During the exhibition period, there will be several promotional activities for your choice.
A distinguishing feature of the current session is the exhibitors with designed courses, equipment and supplies of PE and art education, in response to the national three-year action plan in faculty and facilities construction of PE & art education.
The AD hoc activities

Except for the theme forum, there are several newly added activities in the current session so to enhance the communication and mutual learning among participants from preschool education, such as welcome banquet, the 6th conference for dealers and distributors of preschool education industry, the 3nd conference for the China's development of childcare consisting of environmental design, brand building, operation and management, integration of nurseries and kindergartens, strategy of construction and training of talent team, design of professional courses, etc.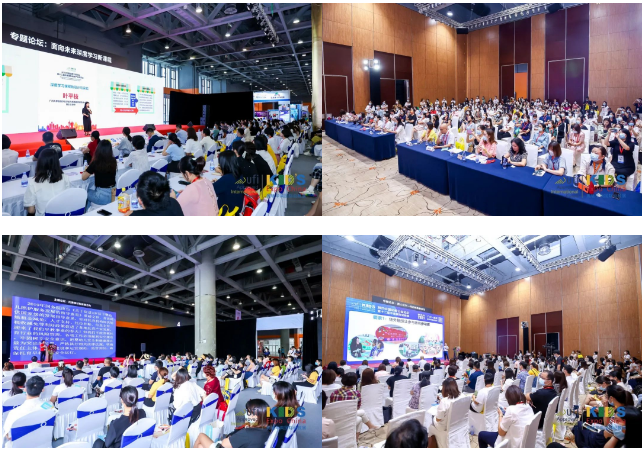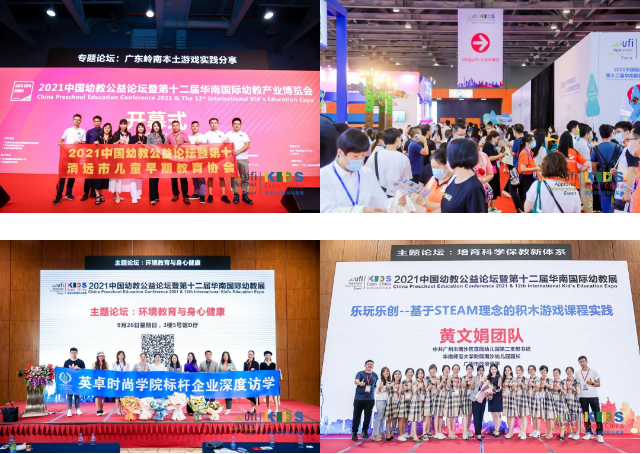 For all the participants from preschool education field, Kid's Expo China is a great chance for systematic learning and comprehensive self-improvement, as well as the ideal platform to learn about latest concepts and characteristic modes of China and International preschool education.
With mutual learning, communication and discussion, we're exploring the infinite possibility of China's preschool education in new era.

The 2022 China Preschool Education Conference will be held in Guangzhou Pazhou Poly World Trade Expo center from Dec 2nd - 4th , looking forward to seeing you again.